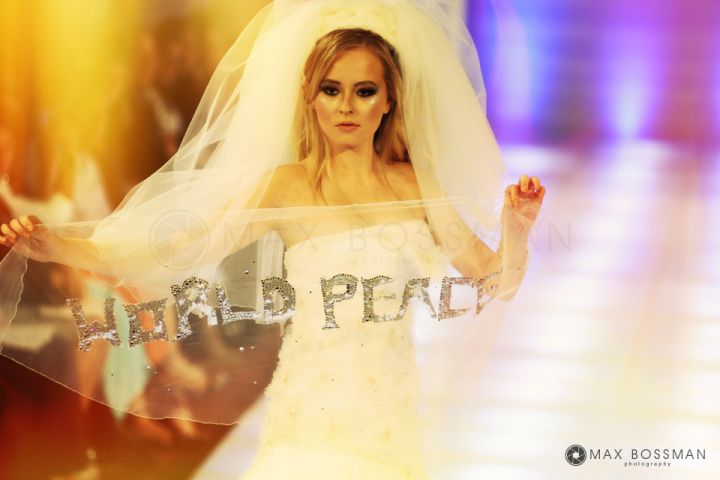 Couture Fashion Week New York
Couture Fashion Week New York - Spring/Summer 2014, NYFW Andres Aquino
Cory Couture
Cory CoutureManhattan based designer with Vietnamese background Cory Dung Tran launched his first vibrant couture collection Cory Couture in 2009 blending Asian and Southern styles.
Since then Cory's artistic expressions have gained recognition in the fashion industry and captivated celebrities and fashion publications like Toni Braxton, Channel Iman, Tyra Banks, Kelly Rowland, Brandy, Pussycat Dolls, American Next Top Models, Victoria Secret SM, Miss World, Miss Universe, Elle, Cosmo, Maxim, Haute Couture.
World Peace - Laila Wazna
Laila WaznaI wish peace to the whole world, I love everyone from all my heart and wish happiness to all communities.
To put an emphasis on her statement Laila, touched by the latest events in Syria garnished a piece of wedding veil with Swarovski Crystals spelling World Peace which became a centerpiece of her collection. She drew immediate attention from fashion critics, audience and press when a model dressed in one of Laila's bridal dresses walked out in total silence.
Janerations - Janina Stankiene
Janina StankieneJanerations' unique designs have captured a loyal following among sophisticated knit couture luxury fashion lovers.
Janina Stankiene impressed me with her detail-oriented, humble shy personality. She presented her elegant hand-knitted dresses and swimwear in Janerations collection. To see more of Janina's creations, please visit her website: www.janerations.net
Port of Style - Andres Aquino
Andres Aquino This nautical line is the culmination of a common vision that Andres and I have shared for our love of the seaside and ocean life. The collection is unique, stylish, eclectic and functional.
Magdaline Delany, Oceanie Club and Entrepreneurs
Andres Aquino, fashion designer and founder of the Couture Fashion Week, launched a luxury line of exquisite swimwear and wraps under the brand Port of Style.